According to a Microsoft Research study, 70% of workers said that they want flexible work options to continue post-pandemic. 65% are craving the return of an office working environment and as a result, many law firms and businesses are looking to create a hybrid work model for law firms. In this blog post, we discuss what this is and how you can begin to bring your attorneys and staff back into the office safely.
What is it?
A hybrid work model for law firms is one where employees partly work from home and partly work in the office. This means that your office space will be less crowded during working hours, making your staff feel safer. Working from home is also advantageous because it means that people can work anytime, anywhere, and on any device. Polling suggests that business owners, as well as their teams, are onboard with a hybrid office/home working situation: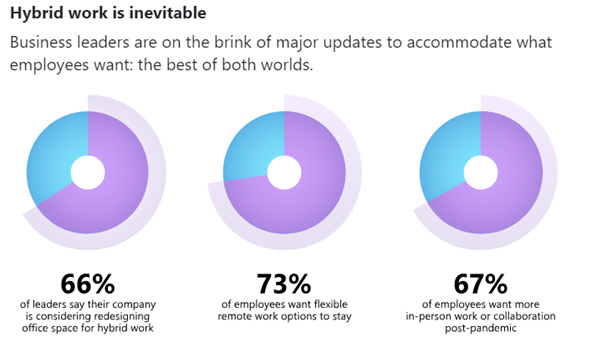 An additional bonus to having fewer employees working in the offices means you can downsize your expensive real estate, turning your law offices into a flexible working space (e.g. hot desking) allows for the lower foot traffic and frees up funds which you can invest in remote work solutions for your law firm.
The research
Socialization and collaboration are listed as the main reasons why law firm employees wish to return to the office, according to Gensler's research. Further research by PWC has also released data that suggests that people with 0-5 years of work experience are more likely to want to be in the office more often. 30% of this group wanted to work remotely one day a week at most because they valued developmental meetings with managers or company training programs.
87% of executives have mentioned wanting to make changes to their workspace strategy post-pandemic. A hybrid work environment means investing in new ways that lawyers and staff can work remotely. It can also save firms time and money long-term.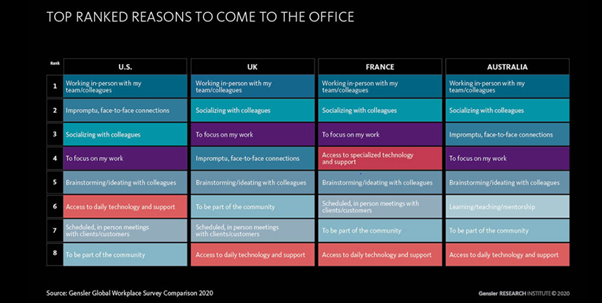 A successful hybrid work model
Transforming your office space into a hybrid work model will not be easy. You'll need flexibility in the physical workspace, but you will also need your technology to support this flexibility – not hinder it. Can your staff access everything they need from home? Or are they restricted when they have a work-from-home day?
Security
This is an important one. With staff working from home you now have sensitive documents and client information that is being accessed from multiple devices, multiple home WIFI networks, and even coffee shops. Is it secure? You'll need to get control of your cybersecurity systems asap to keep a remote working team secure.
Next-gen cloud-based software is the solution
We're here to help! Our next-gen, cloud-based management system has all the tools and devices legal teams need to adopt a successful hybrid work model for law firms. We can help you establish secure access to processes and drive forward a new working environment. Enable your team to work anytime, anywhere, and from any device; schedule a CloudLex demo today.
Also Read:
1) What Legal Workplaces Will Look like in 2021?
2) Working Remotely? Here's How to Secure Your Law Firm's Data.
3) How to Protect Yourself from Wire Fraud During the Covid-19 Pandemic?