Personal injury law is a very competitive market. You need to make potential customers aware of your firm by promoting your brand and developing better attorney-client relationships. Digital marketing is a great way to do this but can be very expensive. That's why we recommend personal injury blogging, which is a cheap and relatively easy way of gaining new clients and ranking higher on a Google search. Below, we've outlined five ideas for personal injury blog posts you can use to drive more traffic to your website.
Highlight your attorney experience
Publishing blog post about your personal injury attorneys is a very lucrative way to build trust between your firm and any potential clients. You can do this by highlighting their experiences, achievements, and awards. Make this part of your blog calendar and create a template so that you can publish one every time you gain a new employee.
Think local
Another good way to market your firm is by focusing on the town you're located in. You can do this by spreading awareness about certain roads that are known for auto accidents, and by providing legal advice to help keep people safe. You could also post content about local issues, such as product liability or truck accidents, that might affect insurance claims, and what steps clients can take to support their personal injury case. Additionally, if concerts and events are happening nearby, you could offer safety tips for attendees to keep in mind. In case of injury, mention any steps clients could take that would support their claim for a rightful settlement.
Answer intent instead of a query
When personal injury blogging, make sure that you write about subjects potential clients want to know about. To do this, you should think about the intent behind the questions they've asked. For instance, if you're writing a blog post about "hiring a personal injury lawyer," you would need to talk about your achievements because the client wants to know the person they're hiring. Intent can be categorized in four ways, which are detailed below:
I want to know
I want to go
I want to do
I want to buy/hire

Best Personal Injury Lawyer?
How to select a Personal injury lawyer?
How to talk to a personal injury lawyer?
How to negotiate with a personal injury lawyer?

Where to file a personal injury lawsuit?
Where is the New York supreme court?

Where is ABC Law LLC?

How to file a personal injury claim without a lawyer?
How to file a lawsuit for a car accident?
Personal injury claim calculator.

Personal injury lawyer near me.
Best personal injury lawyer in New York.
ABC Law LLC.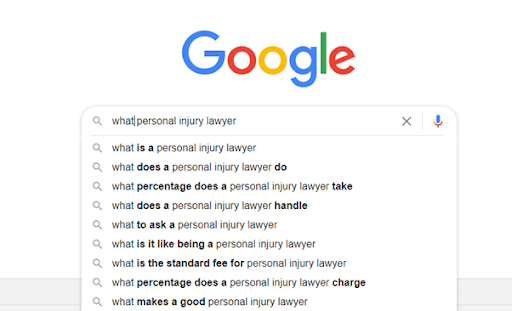 Use Google autocomplete
Google Autocomplete predicts possible queries you might ask. This is a great source of blog ideas! If you type a phrase into Google related to your services (e.g. car accidents, workers' compensation, free consultation), your search results will generate popular questions that have been asked by other people. You can then use this to generate great law blog content. See our example below where we search for a personal injury lawyer phrase:
The best way to create content ideas is by trying different phrases related to your services (e.g. medical malpractice, car accidents, slip and fall, etc.). Then categorize these searches into the table above, and use this method to produce blog content that drives traffic to your website. See what happens when we tweak the above phrase, we get a new set of content ideas – there are endless ideas in Google autocomplete!
Position yourself as a tech-savvy lawyer
Technology is ever-changing and has become an increasingly important element of our society. Everyone now has access to as much information as they want, as often as they want. You need to make it known that you are aware of the importance technology has on our everyday lives. When personal injury blogging, make sure to discuss the personal injury case management software your law firm uses to make your practice more efficient and to keep any sensitive information secure. You can also talk about your technology-driven client intake process. This will make any potential or existing clients feel protected when using your services and trusting you to help them. This is also a great way to attract and connect with a millennial audience!
With these five simple starting points, you can come up with hundreds of blog topics. This is a brilliant way of generating interest and engaging for your personal injury law firm, and will also help you drive growth to your website.