Personal Injury Law Software
Transformative case management for PI
A robust personal injury case management software that streamlines the entire process of case handling from intake to closure, maximizing your efficiency so you can invest most of your time in fighting for your clients.
Streamline personal injury litigation progress
Getting clients, preparing for cases, tracking down witnesses, obtaining medical records, assessing damages, negotiating with insurers and lien holders, deposing third-party experts: as a personal injury attorney, you and your team do all of this and more.

To add to this, a personal injury law firm handles various categories of cases, e.g. auto accidents, medical malpractices, product liability, wrongful death, etc. Each category of cases needs special focus, detailing and processes, so personal injury law firms need a robust personal injury case management software that minimizes the time you spend maintaining and organizing records so that you can maximize the time you have fighting for your clients.
Simplified personal injury practice management
Take control of your case management process from the initial client intake all the way to settlement negotiations, trials and beyond.
Get all the intake information you need, such as date, location, description of the incident, etc., and never lose out on potential clients or revenue.
Built-in automated tasks, event workflows and an intuitive communication platform ensure PI attorneys never miss a critical deadline.
With the help of legal intake software and legal matter reporting dashboards, see cases from start to finish, all while managing negotiations, costs and more.
Effortlessly manage personal injury caseloads
Personal injury caseload management at a glance
A robust case management software for a personal injury attorney lets you to stay on top of matter progress and helps with cases you manage.
Stay on top of active matters and the number of stalled cases, along with the ability to view all cases in a specific stage, such as new case/pre-lit, investigation and discovery, including various stage sub-statuses, such as intake, investigation pending/verified, etc.
Have handy timelines along with other case management features that enable you to significantly decrease the case processing time and enhance your firm's legal matter management capabilities.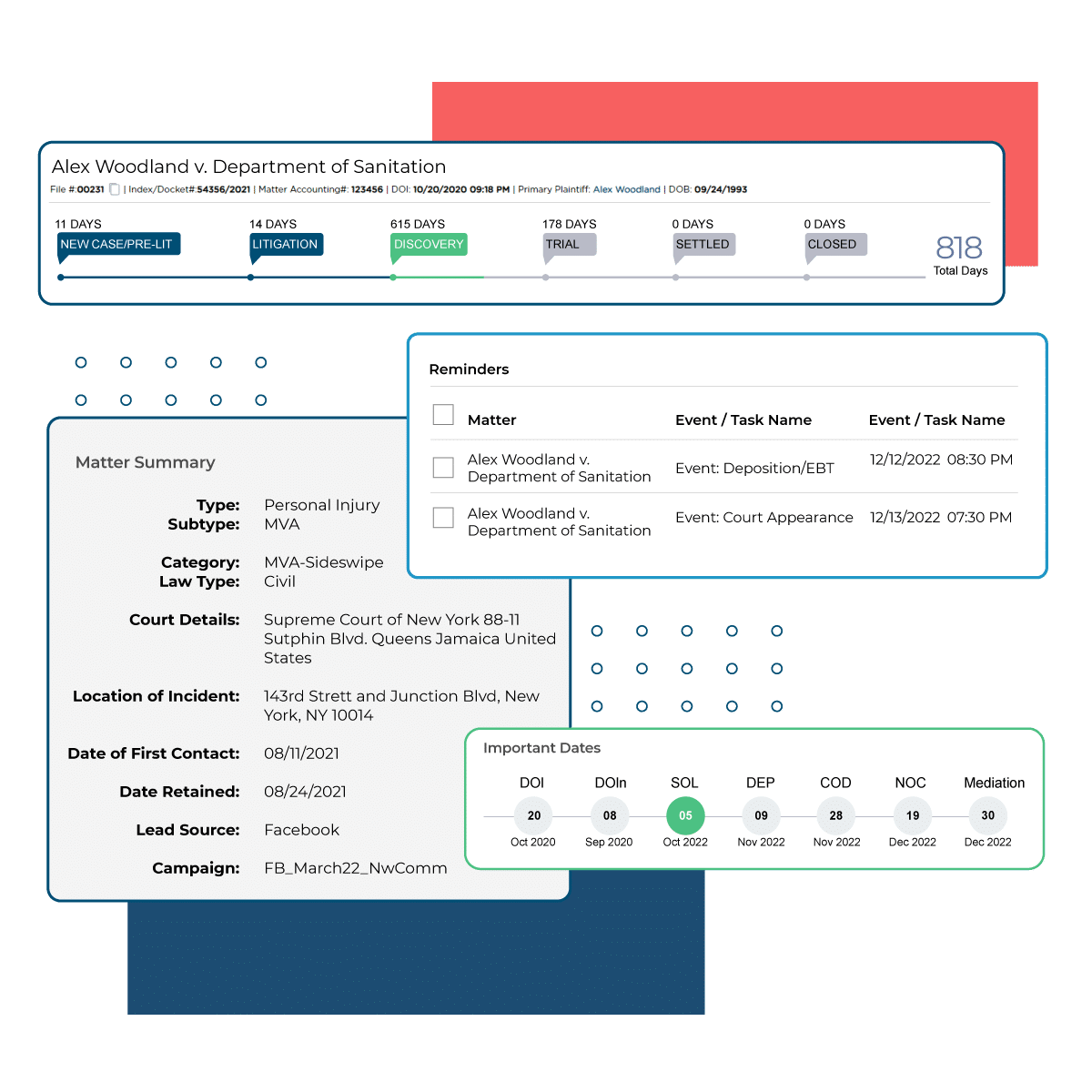 Monitor individual cases throughout the litigation progress
The individual matter overview page features an intuitive and prominently displayed timeline. This allows PI attorneys to easily determine exactly how many days a personal injury case has spent in each individual status (including the current status) and the total number of days the matter has been open, as well as:
Store and view all the case-related details like intake details, negligence liability, medical information, etc., consolidated in a single place.
Categorize matter-related documents in various default and custom folders and categories, which can be accessed while working on an individual case or from the global document section.
Manage tasks and events, add automated workflows and communicate easily in one central location
By embracing the right cloud-based case management software, PI attorneys can be more organized, efficient, streamlined and improved communicators. Most importantly, PI attorneys and legal professionals can access their firms' documents, emails, calendars, contacts and more from anywhere, on any device.
Streamline your firm's operations by assigning tasks, such as mail organization, calendar maintenance, case file creation and claim notices, to specific users.
Easily manage important events like court appearances and deadlines, etc., by assigning them to staff members and converting events to virtual meetings with a click.
Optimize your personal injury workflow, reducing manual effort during crucial stages like preliminary investigation, lawsuit filing and discovery.
Consolidated case details, expenses, medical records and other documents
No more scrambling for documents to present to the judge (or jury) at the last minute. No more frantically searching through dozens of banker boxes containing hundreds of pieces of paper. Manage all the case-related data in one place and have this information front and center for easy access.
Separate categories allow PI attorneys and staff to organize all medical information in an intuitive manner.
Advanced legal document search based on artificial intelligence to deep search your queries to quickly find a document.
Editing PDFs and sending PDFs for e-signatures and tracking statuses is a breeze now.
Intuitive law firm calendaring and email management for PI lawyers
Personal injury and trial attorneys need a robust system with seamlessly integrated calendaring and client communication tools. Integrate your email management tools like Outlook, Gmail and legal calendar systems with CloudLex to have a master view of emails, calendars and individual attorney "personal" events.
With access to viewing events across all cases, the entire team will be on the same page and able to save time and coordinate their schedules more effectively.
Keep track of statute of limitations dates for your cases (especially if across different states).