Personal Injury case management software
Modern PI
Attorneys Use
Modern Personal
Injury Software
Built exclusively for plaintiff personal injury law firms, CloudLex's unified personal injury software handles productivity, accountability, communication, collaboration and insights across your firm so you can save time and streamline your operations.
Prioritize tasks, increase productivity.
Built exclusively for plaintiff personal injury law firms, CloudLex's unified platform handles productivity, accountability, communication, collaboration, and insights across your firm, from intake to matters to settlements.
Never miss a deadline
Get a bird's eye view on-the-go with a user–friendly and colour-coded calendar. Allocate appointments to anyone in your firm and set reminders to ensure you keep your dates straight.
Communicate efficiently
Whether it's an important task, a reminder, or just a quick update, you can send emails, texts, and internal messages while never having to stop working on what you're focused.
Make informed decisions
Benefit from data and analytics that measure the performance of your entire team. From settlement reports to case expenses, slice and dice data to get firm-wide reporting.
Case management software
built specifically for injury attorneys
Don't let leads fall through the cracks
CloudLex has best-in-class native Intake Management software that guides you through a foolproof plaintiff intake process, gathering information, case details, documents and everything you need from potential clients. When you are ready, convert your intake into an active matter in just one click.
More than just case management software
Designed to simulate the personal injury litigation process and make case management extremely efficient for personal injury attorneys, paralegals and staff, litigation case management with CloudLex is intuitive, efficient and user-friendly. Get the information you need when you need it, and use the Quick Action sidebar to tackle multiple tasks without losing focus on what you're working on.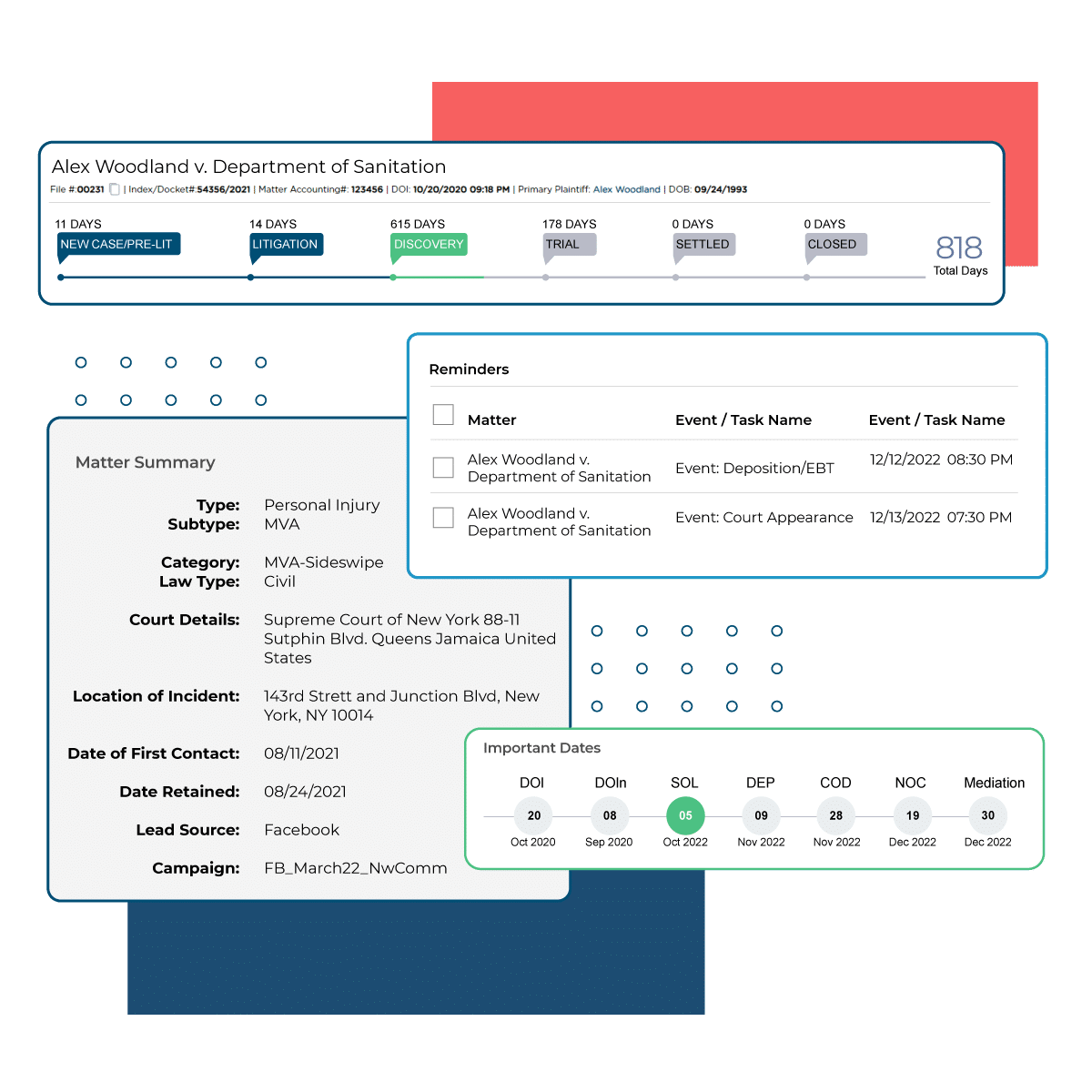 Keep using the tools you're already using
Simplify your workflows by creating, editing, and collaborating in real-time with CloudLex's robust Microsoft 365 integration and HIPAA-certified cloud security. Upload, edit, make comments and share documents with your team from anywhere and harness the power of integrations with industry giants.
See what your peers are saying about CloudLex!
We're able to handle about 40% more cases than our previous software.
Easily able to organize information and run reports to manage your law firm in an efficient and effective manner. Highly recommended for managing partners and attorneys looking to organize and grow their practice. CloudLex is light years beyond other software that we used.
Michael B. Cohan
Cohan Law, PLLC | Personal Injury Attorney